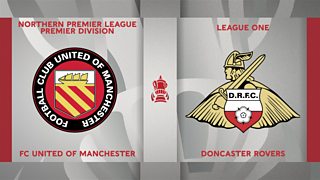 From the official forum:
FC United have been drawn at home to League One club Doncaster Rovers in the first round proper of the Emirates FA Cup with the tie to be played on the 7th November.
Established in 1879, Doncaster are currently seventh in League One and are therefore one of the highest ranked teams in the draw.
Disappointingly, the FA has announced that – unlike the qualifying rounds, where we have been allowed 600 socially-distanced supporters – all the first round proper ties must be played behind closed doors due to the Covid-19 pandemic.
Manager Neil Reynolds was a guest on the BBC Two coverage of the draw and he said to Mark Chapman: "It's a huge tie. Firstly, I'm devastated we can't have any fans but we wanted a home tie and we've got a home tie.
"Doncaster are seventh in League One, what a massive game and what a big scalp it could be. We're excited and we'll prepare in the correct way, let's see what happens."
It's the third time that FC United have reached this stage of the competition, having beaten Rochdale 3-2 in 2010 and lost 4-1 to Chesterfield in 2015.